Face it. You've Got Poop Probs! Meet DOWN JOHN™
The 100% Natural, Safe & Non-Toxic Odor Eliminator!  Once a Year Septic Tank Treatment at Half the Cost. Save 20% with Subscribe and Save Today!
Shop Now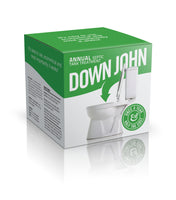 DOWN JOHN™ ANNUAL SEPTIC SYSTEM TREATMENT
DOWN JOHN™ is a revolutionary 3 part treatment for anaerobic septic systems and needs only to be added once a year. The 12 oz. kit contains 3 packs, to be flushed down the toilet into the septic tank, on 3 consecutive days. Easy as 1, 2, 3.
Pack 1 contains a high surface area carbon-like material that removes household chemicals, bleach, detergents and soaps that normally kill off the septic tank bacteria. It also provides an excellent matrix for improved bacterial growth. The result is long lasting and improved septic system performance. Added on Day 1.
Pack 2 is a safe, proprietary bacteria blend that colonizes the tank and provides constant waste digestion. Added on Day 2.
Pack 3 contains a white powder, a high activity enzyme that will dissolve any grease that has built up in the tank. Added on Day 3.
Learn More
ONCE A YEAR SEPTIC TREATMENT … AT HALF THE COST
After the DOWN JOHN™ treatment the septic system will have reduced sludge and grease blockages, odor will be eliminated and lateral lines cleared, improving leach field absorption and preventing back up.
DOWN JOHN™ revives blocked and struggling septic systems and also increases capacity in overload situations. The ingredients are safe to handle, and one pack will treat a septic system up to 1,000 gallons capacity for one year. Forget the inconvenience of monthly treatment, and get better results for less than half the annual cost of other treatments.
Learn How DOWN JOHN™ Works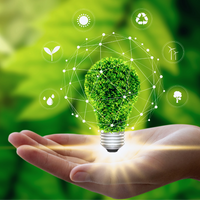 HELP YOUR SEPTIC & THE ENVIRONMENT
DOWN JOHN™ is extremely beneficial to the environment. Its powerful benefits include:
- Binds toxins
- Reduces green house gases
- Produces richer soil for plant growth
- Eliminates nitrates
- Improves air quality
- Helps protect waterways
- Creates a healthy fertilizer
Learn more about how DOWN JOHN™ helps the environment
SAVE 20% with DOWN JOHN™ Subscribe & Save!
DOWN JOHN™ is the perfect septic treatment for your septic system. It is effective, environmentally friendly and less than half the cost of standard septic products. All other treatments require far more applications because the toxins like bleach and antibiotics dramatically shorten the life of the bacteria. But DOWN JOHN™'s unique carbon-based formula creates an environment that lasts far longer at less than $6/month!
To help you remember your annual DOWN JOHN™ treatment, sign up to our Subscribe & Save program (and receive additional savings!). Alternatively, sign up to receive an automated email reminder one month before your next treatment is due.  Each pack also comes with a complementary reminder sticker for your convenience. It's as simple as that!
Subscribe & Save 20% today!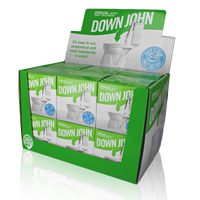 Customer Testimonials
Our church and school have two large septic tanks and we have experienced numerous problems with our septic and lateral line system. 

Over the past 11 years, since we started using Down John, on a yearly basis we haven't had any problems.  We would normally have spent $1,200 a year for pumping our septic tanks.  As a result of Down John we have saved thousands of dollars over the years.

It's easy to use, economical and most importantly it works!

Carlon T. - Yukon, OK
I've used Down John for about 10 years.  We have two septic tanks at our house and over the years we had problems with needing to have them cleaned about every two years. 

Since using Down John, we don't have anything back up.  It's really made our septic system work like it should. Down John has been a really good product for us and I recommend it to anybody.

Ron V. - Fairview, OK
We put Down John down the toilets once a year and it's so simple I don't even ask my husband to do it -- I just do it myself!  It's a product that I highly recommend because it saves a lot of money and time.

Sheryl M. - Yukon, OK
Thanks, Josh!
Check out this testimonial from the Stoney Ridge Farmer and see why he trusts DOWN JOHN™ to treat the septic system of his home and small farm! If you enjoy "how to" videos about maintaining a small farm, join his community of over 638,000+ and subscribe to his channel.
Eliminate Odor

100% Natural, Safe & Non-Toxic
Eliminate Odor
100% Natural, Safe & Non-Toxic